If you have been looking for easy to make snacks to help boost your metabolism and your gut health, here is a great idea you can't resist. A healthy gut flat stomach recipe includes quality foods that will help you achieve that ultimate wellness goal. Recipes that include foods high in fiber, sources of probiotics and low fat are the best options to choose if you truly want to get a better digestion.
As I mentioned earlier, the gut is the key component of your body for better fitness and wellness. It is where everything starts, from getting the most important nutrients, to improving your immune system and promoting fat burn. Remember that feeding our gut's microbiome or flora is very important to keep a healthy digestion and letting everything in your body run as smooth as possible. A clear example of this is your metabolism, performance, endurance and focus, among other things.

Some facts about this healthy gut flat stomach recipe
Benefits
Looking to burn fat and avoid bloating? I think this has been the pain for many people. Being bloated not only affects your digestion, but also slows down your ability to lose weight and burn fat. Therefore, you should be adding more of these powerful ingredients to your healthy gut flat stomach recipe. The good thing is that these are very tasty foods, and have a high nutritious value for their components. This recipe is packed with tons of vitamins A,D,E, vitamin C, calcium, potassium, magnesium, protein, good fiber, healthy fats, omega-3 and antioxidants.
This food is also very effective as a workout snack. For those of us who train at the gym, or do regular exercise, it is very important that we don't give up on quality post-workout snacks. A good snack of these is needed for good muscle building, toning our body, burning fat and increasing performance. You should focus on snacks that not only provide good quality protein, but that also promote a healthier digestion. You don't have to use only protein shakes, by making proper whole food choices, you will get closer to upgrading your body composition goals! A better gut health is key to more fitness results!
Another benefit of this healthy gut flat stomach recipe is that it will make you feel full! It will also control your anxiety, slow down your cravings, since it is packed with high quality nutrients like protein and fiber. And you know that you can't go wrong with a meal or snack that's fully delicious and loaded with nutrients. So, apart from being a gut-friendly snack/meal, it is an extra beneficial food for controlling sugar cravings.

Healthy gut flat stomach recipe perks
What about preparation? This is an easy, effective snack that you can prepare in less than 10 minutes. It is made with whole foods, ready- made, quick to combine all together. If you are on the run or have a busy schedule, go for options like these or that you can simply take with you on the road. You don't need much cooking, no much manipulation, therefore, it is safe to consume and easy to digest.
Is it gluten free? Well, the original recipe itself may contain traces of gluten, however, you can replace the nuts or cereals for seeds like flax seeds or chia, for example. This healthy gut flat stomach recipe is easily adaptable for any kind of need, especially when it comes to food allergies or intolerance. The base for this recipe is yogurt, which is well known to be one of the best foods for healthy digestion. Even if you are lactose intolerant, yogurt may be a safe option for you. If you are in a diet that restricts dairies, or if you are vegan, then you can replace yogurt by other good sources like soy milk, almond milk, and other plant-based choices.

Final nutritional advice
This healthy gut flat stomach recipe is recommended as a snack or as a dessert. It has very few calories, plus it is nutrient-dense. So, there should be no concerns whether you will have weight gain or more cravings, as I mentioned, you should improve your digestion and metabolism. It is also awesome that you consume this after an intense workout, it serves great as a post-workout snack. You can even blend all ingredients together and make into a smoothie! Doesn't that sound super yummy for you?
On the other hand, if you are an adult that has a very sensitive gut, namely you suffer from IBS (irritable bowel syndrome), you may need to swap some ingredients like the yogurt, berries and nuts for other alternatives. This is mainly because, this disease can cause you to feel very uncomfortable with these types of snacks, therefore, you would need a low- FODMAP diet. Check with your nutritionist for further guide. Apart from this case, you should be fine with this type of delicious recipe.
Since this is a low-calorie meal, but has tons of ingredients to give you energy, you can add it to your regular breakfast. In this case, the recipe yields 2 servings as a snack, so it is ok if you eat the whole servings for a breakfast. Another great idea is to make it into a smoothie bowl. Get creative, and find different combinations to make this healthy gut flat stomach recipe the best. Let me know how it came out for you and if you like this recipe, share it!
Cheers!

Yummy high- fiber yogurt parfait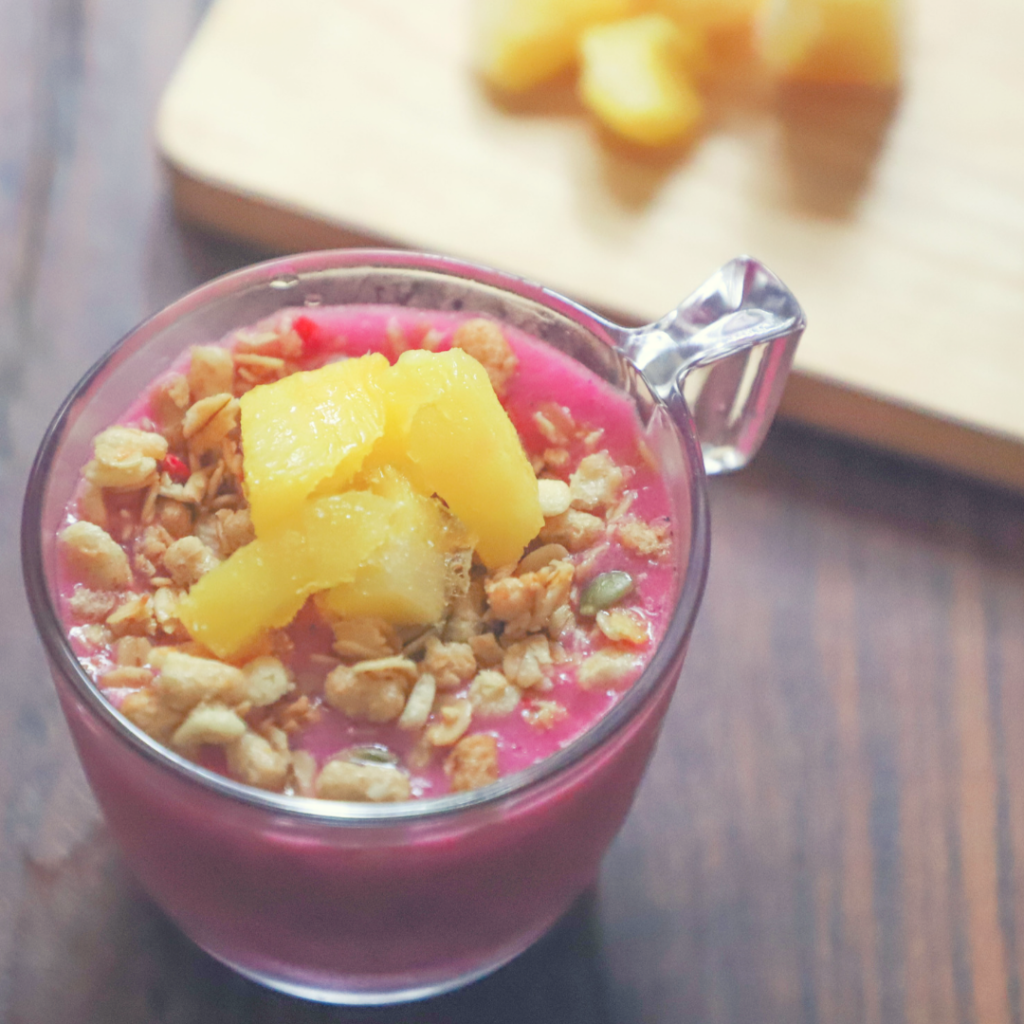 Time: 10 minutes

Serving size: 1 cup
Yields: 2 servings
250 calories total

Ingredients:
1/2 cup strawberries
one banana
1 cup greek yogurt
1 tablespoon chia seeds (optional)
For the topping:
2 tablespoons granola and tiny chopped pineapple
Instructions:
Blend yogurt and fruits. You may add chia to the blend or as a topping.
Add the topping of granola and pineapple. As an alternative, you may use nuts or oats. You can also switch the pineapple for some strawberries, blueberries or apples.
Enjoy!