Smoothie bowls are the new trend in healthy eating for wellness. If you are looking to add variety, good taste and tons of nutrition, then you should try adding these blends to your menu. It is very easy and common to find many combinations. Now, you don't have to "drink your nutrients" in a glass, you can simply switch up things. Smoothie bowls have precisely that advantage, that you can add toppings and different ingredients to make the eating experience unique.
Are all smoothie bowls healthy?
It is also very important that you take into consideration how to make these smoothie bowls to get the most out of them. The reason why I say this, is because depending on how you make them, you could easily add tons of calories and sugar. Therefore, the idea is to learn how to prepare them in a balanced way in which you can get most of the nutrients without compromising your weight control goals.
Great perks of smoothie bowls
Getting the nutrient requirements
As I mentioned earlier about the green smoothies, healthy smoothie blends are a smart way to introduce more veggies, fruits and basically cover these requirements. This is the main reason why many dietitians recommend having healthy smoothies. Basically, if you don't usually eat 5 fruits a day or get easily bored with the same green salads, why not eat them in the form of smoothie bowls?
Apart from that, you can also get other nutrients from smoothie bowls. By adding different ingredients and toppings, like seeds, fruits and other ingredients, you can easily make up a meal. This is awesome, since you can fulfill a great part of protein, fiber, vitamins, minerals and antioxidants that your body needs. In other words, you can easily have them as breakfast or as a snack.
The greatest thing about smoothie bowls: you will be eating whole foods, which gives you nutrients naturally. Of course, if you are having a meal packed with nutrients, then you will feel more energized, plus you will boost your immune system and have a better digestion. There is also a good chance that you will be controlling your blood pressure and bad cholesterol. The other benefit is that you can have a good performance during workout and fuel your gains.
Variety, easy to make and accessible
Smoothie bowls give you the greatest benefit of tasting new combinations every time. The options are endless, and you have control over the ingredients you add. Plus, you don't have to spend more than 10 minutes making, since you basically just need a blender. For the most part, the ingredients are cheap and you can get them easily in any local store or supermarket.
Some advice on how to make powerful smoothie bowls
Follow these guidelines when making smoothie bowls:
Aim for blends that are balanced in calories and nutrients. Of course, you want to enjoy a great taste but bear in mind that some smoothie bowls may reach up to 1000 calories. The idea is to have about a 200 calorie blend, but being a smoothie bowl, the idea is to have about 350-450 calories worth of good nutrients.
Add 1 cup or 2 whole fruits. These should make up the base of the smoothie. Good fruits for this are bananas, apples, mangos, strawberries, blueberries, peaches, and pineapple.
Add some green leafy veggies like spinach or kale. You can also add celery. Typically ½ or a cup would be fine.
If you want to make your smoothie bowl a full meal, like breakfast, then consider adding protein sources. The best liquid sources are greek yogurt or milk. You can also add 1-2 scoops of natural protein (soy or whey) if you wish.
Seeds and nuts are great sources of plant-based protein and tons of fiber. They also add omega-3 and other healthy fats. The best sources are quinoa, flaxseed, chia seeds, for example. You can be creative by adding nuts as well. My favorite are almonds, or nut butters. You can add a handful to the blend, but usually these work better as toppings, you will have that crunchy nice flavor.
Another good ingredient is oats. Here you will get a quality food that gives you good fiber, vitamins, and minerals to boost your health benefits. Granola is also considered a healthy fat cereal that makes good toppings.
You may need to add some water, but if you use ingredients like milk (almond, coconut, for example), that may not be necessary. You just need to measure texture and consistency when you blend.
Other great ingredients that will take your smoothie bowl to the next level are cinnamon, turmeric, cocoa powder, ginger, or unsweetened matcha powder. Since these foods have very few calories, you can add about 1-2 teaspoons. Most of these flavor enhancing foods have great benefits, like increasing your metabolism, giving alert or burning fat.
You may also add a little bit of ice, depending on how thick and cool you want your smoothie blend.
Ready!
Now that you know the benefits and how to prepare good smoothie bowls, it's time for you to experiment. Find new combinations each time to make your eating experience unique. You can also refer to the FREE green smoothies guide that I prepared for you. In that guide you will get some cool ideas for a green smoothie base. Below is a recipe that I created, it's one of my favorite smoothie bowls. Try it, comment and let me know what you think.
Super Green Smoothie Bowl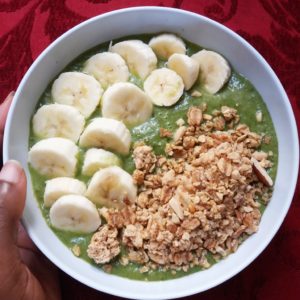 Serving size: 1 bowl
350 calories
Ingredients:
2 handfuls of kale or spinach

1 stick celery

1 apple

1 cup greek yogurt

1 tsp vanilla

0-2 glasses of water (measure consistency)
For the topping:
1 banana

2 tablespoons almonds

2 tablespoons granola
Instructions:
In a blender, add ingredients. Mix well until desired consistency. Serve in bowl.
Decorate with topping ingredients. Enjoy!
Berrie- Banana Bowl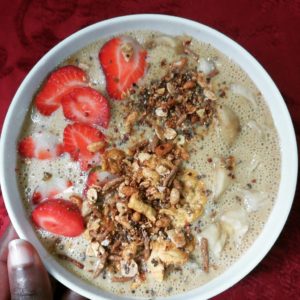 Serving size: 1 bowl
350 calories
Ingredients:
2 bananas

1 cup strawberries

1 cup greek yogurt

1 tablespoon cocoa powder

1 tsp vanilla

0-2 glasses of water (measure consistency)
For the topping:
6 strawberries cut in half

1 tablespoon chia seeds

2 tablespoons granola
Instructions:
In a blender, add ingredients. Then, mix well until desired consistency. Serve in bowl.
Finally, decorate with topping ingredients. Enjoy!